Ty Crwn Mawr – Authentic Mongolian Ger (Yurt)
Ty Crwn Mawr (Large Round House) is a spacious, cosy and very comfortable authentic Mongolian Ger (better known as a yurt) with amazing views which can easily and very comfortably accommodate up to seven guests.
View Photo Gallery for Ty Crwn Mawr Yurt
The yurt is beautifully furnished with lovely linens, wall hangings, rugs and fairy lights creating a warm and magical space. It has a super comfy king size bed and five single foldable futon beds that turn into seats. The yurt is light and airy with a clear round window in the roof and a north facing door to help keep things cool on sunny days and hot summer nights. Bedsheets, duvets and pillows are provided along with plenty of extra blankets but feel free to bring more with you.
Fully insulated with thick wool felt and heated with a brilliant wood burning stove, it's toasty even on the coldest of winter nights. A basket of logs with firelighters and kindling are provided. Further packs of logs are available along with extra kindling and firelighters.
Ty Bach Pren – Bathroom and Kitchenette
Right next to the yurt is Ty Bach Pren, a small wooden cabin containing a bathroom (with compost toilet and hot shower cubicle) and a well equipped small kitchenette with sink, 4 ring gas stove worktops and fridge/freezer.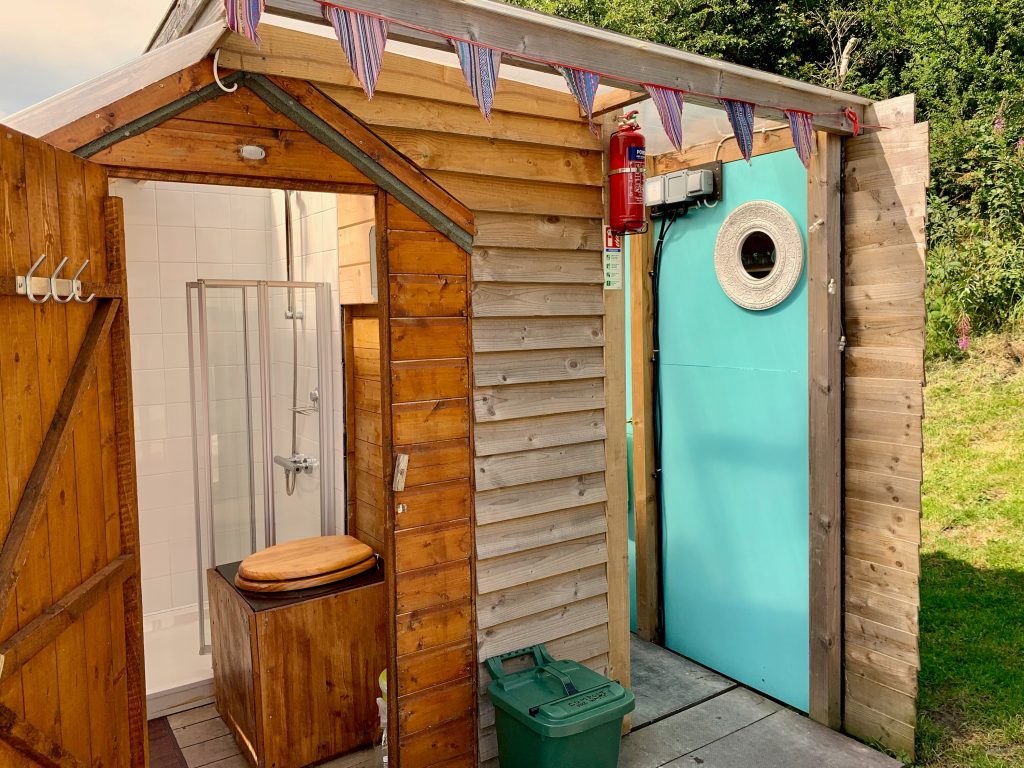 All pots/pans, crockery and cutlery, mugs and glasses etc are provided. We simply ask that you wash them before you leave.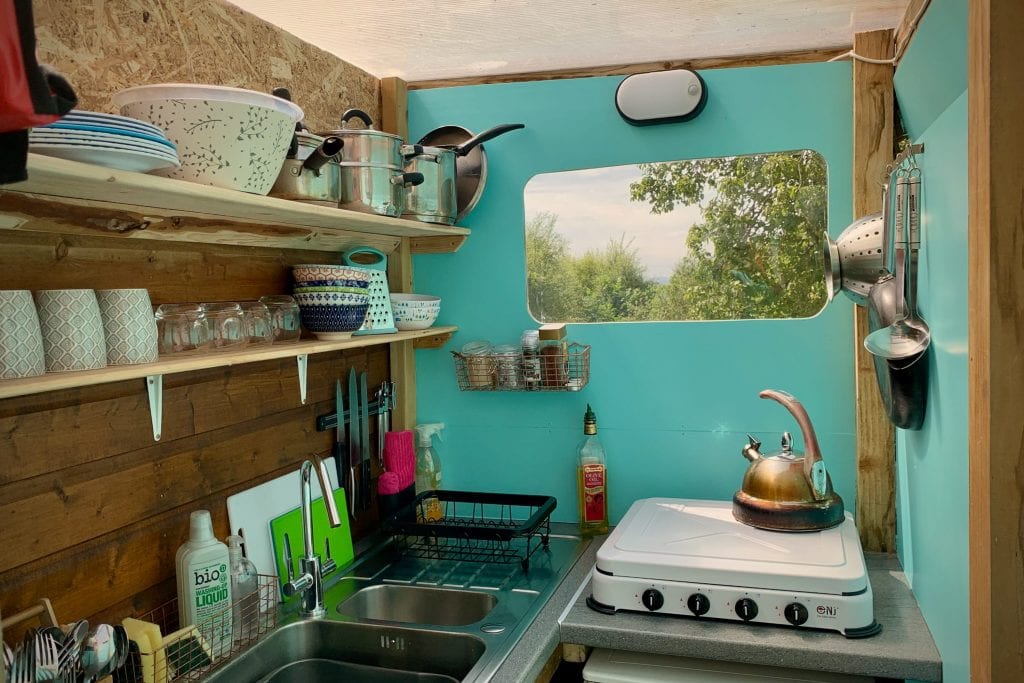 Outdoor Seating, Fire Bowl and Covered Dining Space
There is a secluded seating area, covered dining area with fire bowl, grill & BBQ to the south of the yurt with plenty of chairs and benches.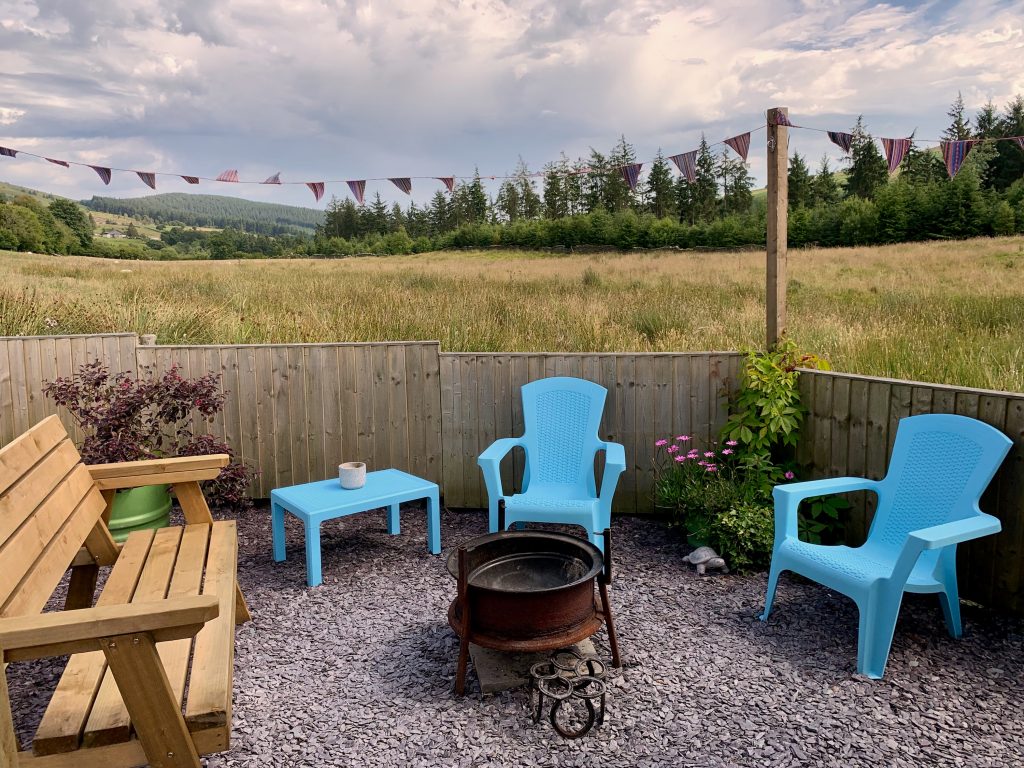 Cast iron cookware (including a dutch oven) is provided for those full on outdoor fire based culinary experiences! So hey….collect some wood from the forest, get the fire bowl going and cook up a hearty meal….you are glamping after all!!!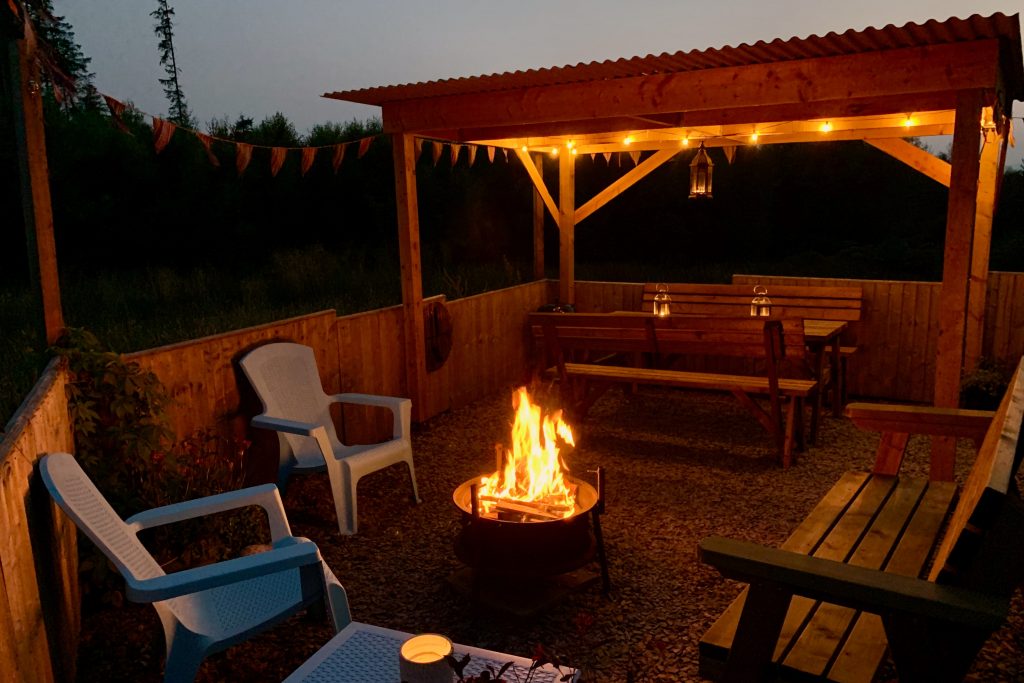 In keeping with the ethos of our home, we have tried to use reclaimed/recycled/up cycled materials wherever possible.
There are standard 230v electrical sockets in the yurt and low energy lighting there and in the bathroom/kitchen & outdoor area which all run off renewable energy sources.
So by staying in Ty Crwn Mawr you will be doing your bit to reduce pollution and carbon emissions.
If you need assistance with anything just ask. We are here to help and glad to do so. 🙂
Check availability and book on AirBnB...
Guest reviews and comments
Hazel

You'll love this place! Up on too of a hill, you can see the sunrise, sunset and moon rise. The changing weather systems make the scenery constantly different and interesting. The local village is super friendly as is the wee pub.

There is plenty wild swimming around, loads of walks and wonderful nature.

There is so much to do we ended up spending every day out the whole day but the yurt is huge and would allow for plenty of at home activities too.

Shayne, Nathan and all the animals are welcoming, helpful and friendly. - 09 Aug 2020