Bio Energy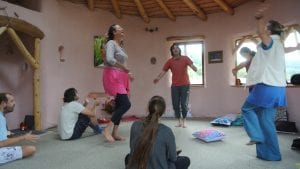 Meditation helps us access our original self, free of anxieties, pain and blocks and helping us discover true happiness. We laugh, we love, we share and we let go of anything that blocks the way to perfect health, happiness and abundance. Check out ratubagus.com for more information about Bio Energy Meditation.
Come and participate in the retreat where you can immerse yourself in your own deepest nature surrounded by mountains, forests and big open skies in beautiful North Wales. Held in Ty Mam Mawr (House of the Great Mother) a gorgeous straw bale roundhouse with accommodation in beautiful yurts at our off grid eco retreat centre. For more info check out https://www.facebook.com/tymammawr/
Start: Friday 23rd November 2018. 4 pm for check in.
End: Sunday 25th November after 2nd shake then lunch.
Contribution: £120 for Shaking, food and accomodation.
Location: Cynwyd, North Wales, UK
Meals: Vegetarian/Vegan food is included. In the spirit of this 'family' retreat, everyone will be helping with food preparation and clear up.
Programme:
Friday: 5pm Shake, followed by dinner, then meditation around the fire (weather permitting)
Saturday: Shaking at 7am, 11.30am and 5pm (meals after each session)
Sunday: 2 shakes, finish after lunch.
The Accommodation
We can accommodate 12-14 people in two yurts and the roundhouse.
For others, there are local B&Bs and Camping nearby.
Booking is essential! Please call 07802287988 or email us to book.
N.B. If you would like to stay on for Sunday night please let us know, there will be a small charge of £20per person.
**** PLEASE BOOK BEFORE 20TH NOVEMBER ****
In the area
The area is in a very peaceful rural setting in Cynwyd Forest high in the Berwyn Mountains in North Wales
Transport
The nearest train station is 45 minutes away at Ruabon. Buses run regularly to Corwen where we can fetch you.
Manchester & Liverpool are approximately 1-1.5 hours drive.