Ty Crwn Bach Idris – A gorgeous yurt with covered deck and log cabin kitchen diner & bathroom
Ty Crwn Bach Idris (Idris's little round house) is a cosy, gorgeous and very comfortable yurt with truly spectacular views suitable for up to four guests.
View Photo Gallery for Ty Crwn Bach Idris Yurt
The yurt is beautifully furnished with lovely linens, wall hangings, rugs and fairy lights creating a warm and magical space. It has a super comfy double bed and a double sofa/futon. Bedsheets, duvets and pillows are provided along with plenty of extra blankets but feel free to bring more with you.
Ty Crwn Bach Idris is light and airy with a clear round glass opening window in the roof and a south facing stable door to help keep things cool on sunny days and hot summer nights. The floor and walls are insulated so it's toasty even on the coldest of winter nights. There is a brilliant little wood burning stove which heats up the space very quickly and is perfect for boiling the kettle for a warming cuppa. A basket of logs with firelighters and kindling are provided. Further packs of logs are available along with extra kindling and firelighters.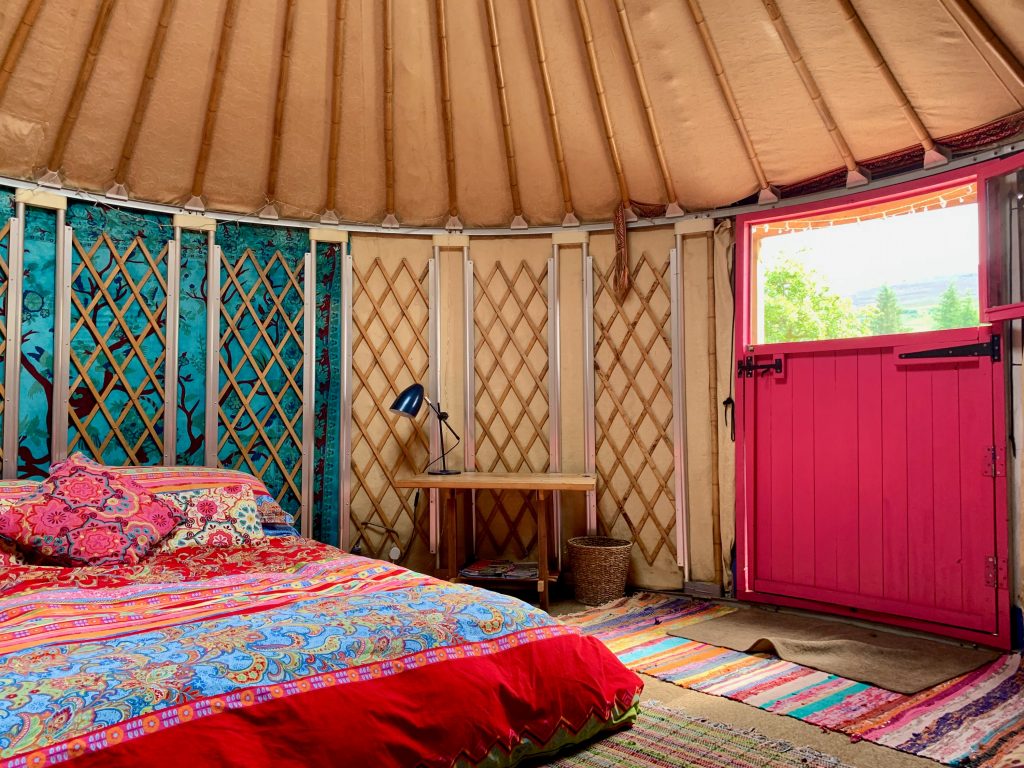 Ty Log – Log Cabin Kitchen/Diner and Bathroom
Ty Log is a large log cabin contains a super well equipped commercial grade kitchen and dining area. It is also home to a compact heated bathroom with hot power shower, flushing toilet and hand basin.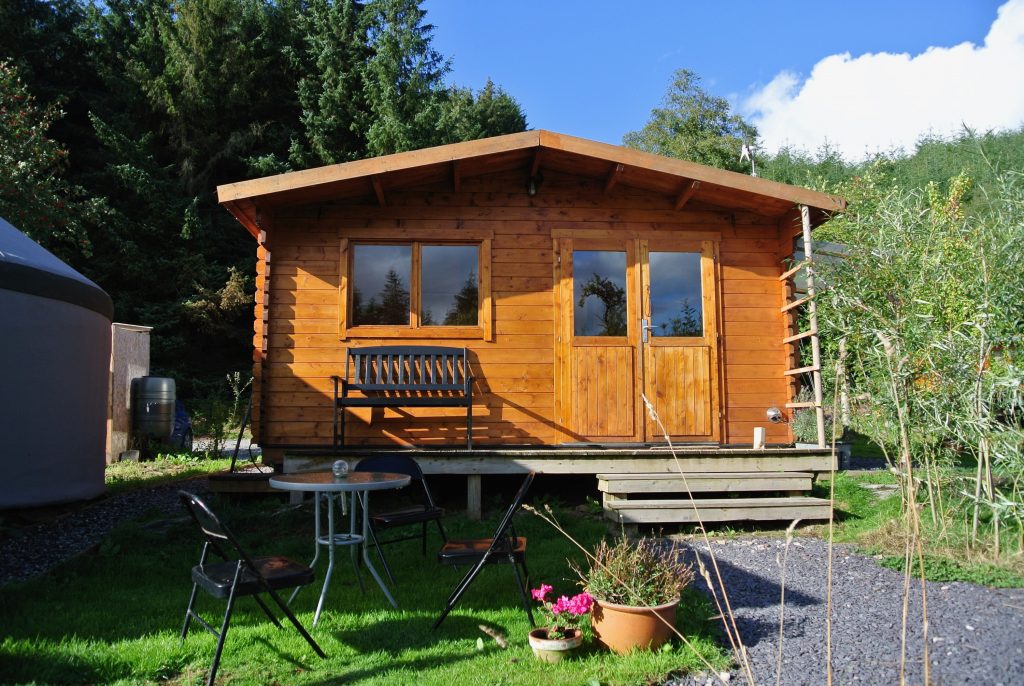 The log cabin facilities are for the sole use of the guests staying in Ty Crwn Bach Idris. The exception to this is if you rent both the small yurt and large yurt at the same time and then you can share facilities in whatever way you wish.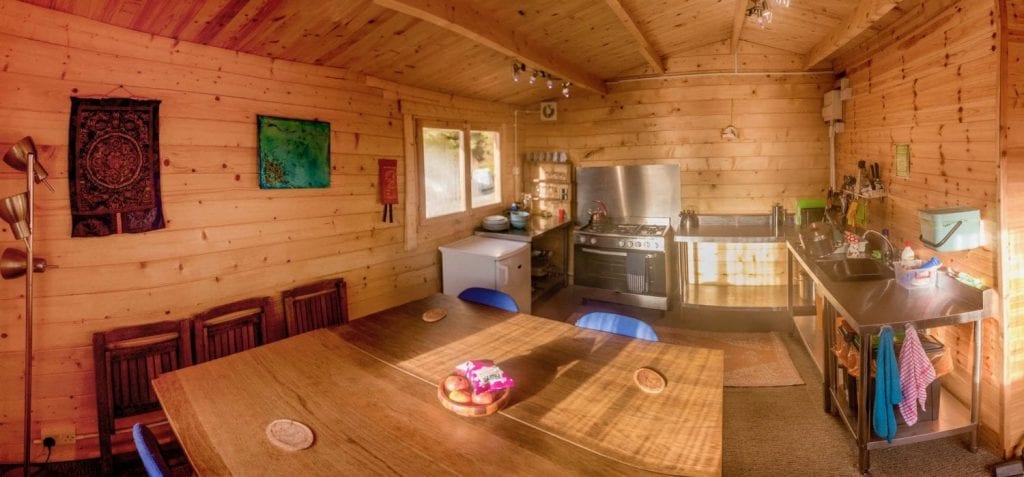 All pots/pans, crockery and cutlery, mugs and glasses are provided. We simply ask that you wash them before you leave.
Outside, covered deck and fire bowl
The covered and partially enclosed deck outside the yurt provides somewhere sheltered to sit and enjoy the BBQ or the fire bowl, or swing gently in the hammock and hanging chairs. There are two comfortable adirondack chairs provided although there are grassy areas to lounge around on if you would prefer.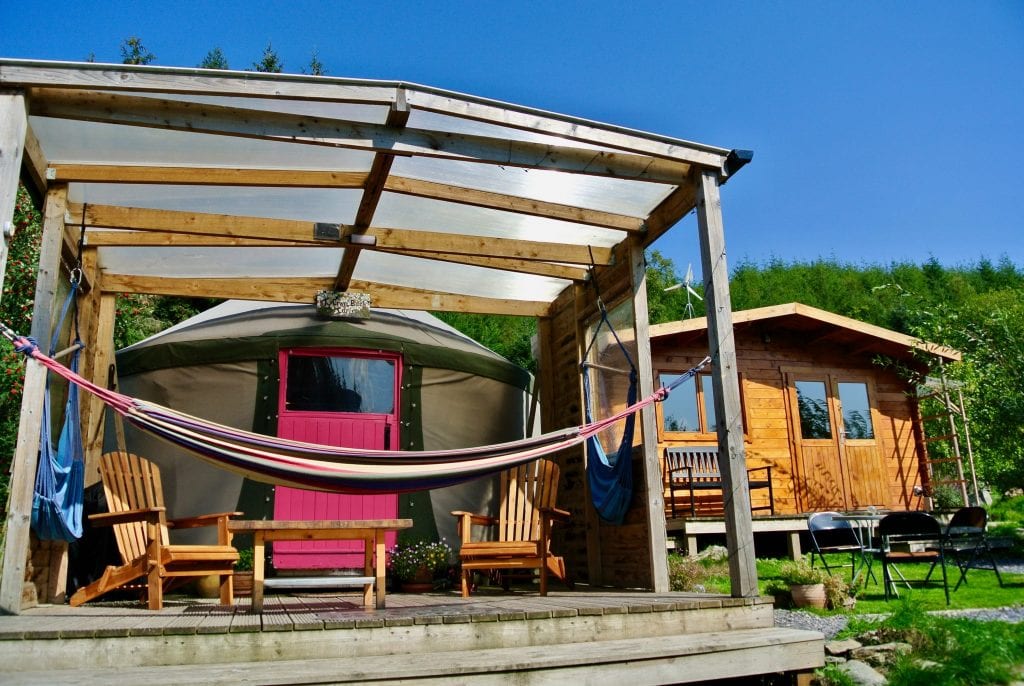 So hey….collect some wood from the forest, get the washing machine fire bowl going and cook up a hearty meal….you are glamping after all!!!
In keeping with the ethos of our home, we have tried to use reclaimed/recycled/up cycled materials wherever possible.
There are standard 230v electrical sockets in the yurt and low energy lighting there and in the bathroom/kitchen which all run off renewable energy sources.
So by staying in Ty Crwn Bach Idris you will be doing your bit to reduce pollution and carbon emissions.
If you need assistance with anything just ask. We are here to help and glad to do so. 🙂
Check availability and book on AirBnB...
Guest Reviews and Comments
Hilary

Outstanding. Spent four nights over Christmas. In the big yurt. Sleeps 8. Terribly romantic. Nice double bed. Fairy lights so sweet. Stylish design. Hot shower and flushable loo. Huge gas oven for Christmas dinner. Shared kitchen with couple in other yurt which worked fine. Location remote and beautiful. Found great Welsh stew at Grouse Inn but we drove there. Would be scary in ice as some steep drops from the road. Top of a hill so great views but our 4x4 was reassuring! Two lovely chickens. No roosters. Amazing retreat location. You've got to visit. - 26 Dec 2017

K

Excellent hosts - Nathan had great communication and made check-in super easy. The yurt was very cosy and even when it was only 5 degrees outside, the inside was so warm (after a couple of minutes with a log on the fire!) Will recommend to anyone looking for a short stay in the North Wales mountains. - 10 May 2019

Heidi

We had a wonderful time at the yurt! Shayne and Nathan are amazing friendly and accommodating hosts! The kids had a blast, loved the chickens, the sweet dogs and the open atmosphere! We bbq'ed, roasted marshmallows, meandered through the woods, chilled in the yurt! Thanks for a wonderful stay, great conversation and building such a lovely space! - 18 Apr 2021

Lauren

We absolutely loved our stay. A beautiful retreat from the world with cozy spaces and friendly pups and chickens. Easily accessible to Bala, Llangollen, and Corwen, but also really nice to just stay close and explore the trails. The kitchen and bathroom were immaculate and the yurt itself was warm and so comfortable. Shayne was so helpful and fun to talk to. - 15 Jun 2018

Harry

Staying in the yurt was a great experience of camping just more on the glamping side, that being you have a kitchen, bathroom and electricity. The hosts were nice and always replied to messages in a reasonable time. It is also in a good location with plenty of things to do nearby. - 15 Jan 2019

Sally

A real gem. Stunning location, many beautiful walks straight from the yurts. We walked to a waterfall where we could swim in a deep pool, a beautiful reservoir where the kids loved playing in the streams leading to it, and even climbed a mountain where we could see for miles. All of this literally on the doorstep.
Shayne and Nathan were excellent hosts, they couldn't do enough to make our stay perfect. Shayne helped the kids gather rhubarb from her garden and even gave us some flour to make the best crumble ever, Nathan indulged my husbands obsession with catching an eel by lending him his fishing hooks. Always smiling and always ready to help.
The kids are desperate to go back, we've all decided that Wales is the most beautiful country in the world and this holiday was just perfect. Book it! - 05 Jun 2021

Charlotte

My family and I stayed here to celebrate my birthday. The yurt is beautiful and the facilities are well above the standard you would expect from off grid living. We were able to enjoy the bbq and fire pit. Chilling our drinks in the pond was all part of the adventure (there is a very large kitchen with fridge available but that isn't as fun!)
Shayne was a wonderful host and although we didn't meet Nathan his enthusiasm for off grid living was evident in all the fantastic facilities he has built.
Stay here to get away from it all. - 22 Apr 2019
Greener Camping Club Membership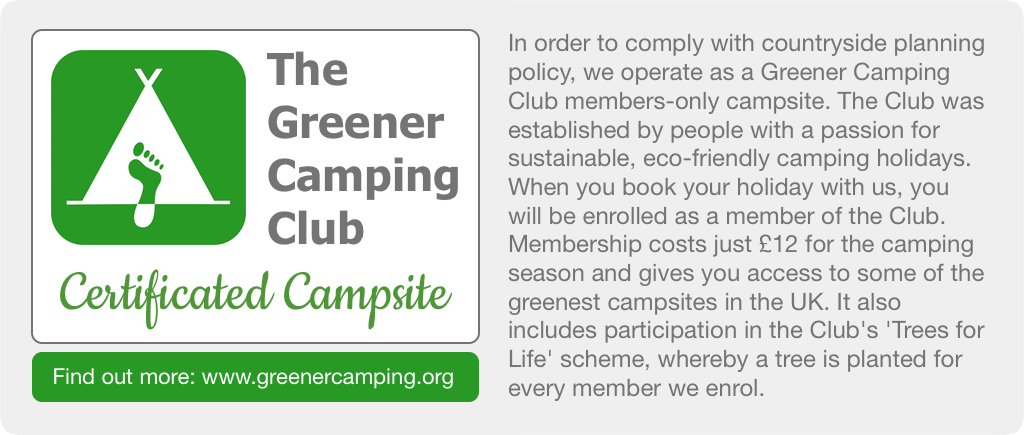 In order to comply with countryside planning policy, we operate as a Greener Camping Club members only campsite.
The club was established by people with a passion for sustainable, eco-friendly camping holidays. Membership costs just £10 for the calendar year and provides access to some of the greenest campsites in the UK. It also includes participation in the Club's 'Trees for Life' scheme, whereby a tree is planted for every Member we enrol.
When you book, we will automatically enrol you as a member of the Greener Camping Club. The cost of this non-optional membership will be covered in the booking charges. If you are already a GCC member then please let us know after booking and we will refund the £10 membership charge after you check out.
When booking you agree to provide us with your full name and email address in order that we can enrol you as a GCC member. We'll issue your membership e-card by email before you check-in.
If you do not provide your full name and email address after booking and at least 7 days before check-in, then we reserve the right to refuse you entry to the campsite with no refund. Please note that if you cancel your booking, the £10 Greener Camping Club membership fee is not refundable.
Check availability and book on AirBnB...
Other things to note
Safety: Smoke alarm, Carbon monoxide alarm, Fire extinguisher, Fire blanket in the yurt and cabin
We have a fresh spring water supply, delicious clean vibrant water
All electricity generated on site from renewable energy sources – 230v in the yurt and cabin
There are low energy lights in the yurt, outside and in the log cabin kitchen and bathroom.
230v power sockets for phones or computers in the yurt.
Sustainable wood powered heating
Standard size fridge
Hot and cold running water in the kitchen and bathroom
Hot power shower
Flushing toilet
Bed linen and duvets are supplied for all beds.
Bath/Shower towels are not provided.
Washing up liquid, tea towels, dish cloths are provided.
Do bring your own torches/lamps for use outside the yurt and matches/lighter to light the stove/bbq/fire pit/gas hob. You will need to supply your own charcoal for the BBQ or if you request it in advance we should be able to arrange that for you.
Eggs from the free range chickens are available when they are laying and we haven't already eaten them! Sorry if you are vegan but we love our chooks and they have a great life…as you will see!
On the North Berwyn Way walking route.. Here's a link to one of many websites: www.deevalleywalks.co.uk
Internet/WiFi can be provided if required but due to our very rural location the internet can sometimes be a bit temperamental!
Pets are welcome by prior agreement only – Must be fully house trained and kept on a lead outside the yurt if they haven't been trained not to chase cats, chickens or sheep – Extra £5/night/pet.
Please note that when the outside temperature drops below freezing for more than a few days in a row, we may have to turn the water supply to the kitchen/bathroom off and drain the system in order to protect the pipes from freezing. In this situation, large containers of fresh water will be made available. There is heating in the cabin kitchen and bathroom to prevent the pipework from freezing but if it gets really artic then there's little we can do!
Guest access
The yurt is set well apart from the main house and well screened from the rest of the property.
Ty Bach Pren, the wooden cabin kitchenette and bathroom is right next to the yurt.
You will have your privacy but we are only too happy to chat, help, spend time, advise on places to go, things to do, where to walk etc. Apparently we are very approachable!
Parking is 30m from the yurt.
If you would like to try your hand at chopping your own wood or joining in whilst we work on the vegetable garden you will be most welcome.
Feel free to play guitars, drums, or to sing your heart out if you are musically inclined but please be mindful of any other guests and your hosts!
Enjoy the space and the feeling of freedom.
You are welcome to use the garden, sit by the pond and generally make yourselves at home but please be aware that this is also our home and sometimes it's nice for us to enjoy a bit of privacy.
Interaction with guests
We are available to recommend walks, mountain bike rides, places to eat, local entertainment nearby…or just for a friendly chat!
If you are celebrating a special occasion then we may be able to help with some great food and a bottle of something suitable, ambient music etc.
We will need a bit of notice to sort that out, but we want your stay here to be memorable and enjoyable so we will do what we can to help make that happen for you.
Check availability and book on AirBnB...
Ty Crwn Bach Idris – Yurt Photo Gallery
Click on a photo to view full screen.